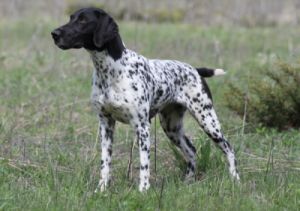 OFA Hips - Good, A2 (German Hip Evaluation-Good), Elbows Normal, Cardiac Clear, Eyes Clear

Vito is a standard sized, 65 cm and 31 kg (25 inches, 68 lbs.), Deutsch-Kurzhaar (German Shorthaired Pointer) male.  He has a noble head and has an elegant overall appearance.  Vito is an upstanding balanced dog that is both correct in type and size.

Vito has drive and desire in the field and has proven to be a good hunter both on land and in the water.  In the house he is calm and quiet making him a pleasure to have around.  Certified with Therapeutic PAWS of Canada, Vito enjoys his weekly visits to a local school to participate in the PAWS to READ program.

Can CH Vito Vom Osterberg Can/Am CD, FDXCH, RA, Carro Rally Novice, NA Prize I, Utility Prize I x3, V1 (German Conformation), , VJP (75 pts.), AZP, Prize II, and AZP Prize I, VGP Prize I (301 pts.), BTR, HN, Therapy Dog (Children Certified), with the Therapeutic Paws of Canada CGN

Can CH. Zyka Vom Osterberg FD, NA Prize I, Utility Prize II  V (German Conformation), VJP (71 pts.), Derby Prize I, AZP Prize I, HN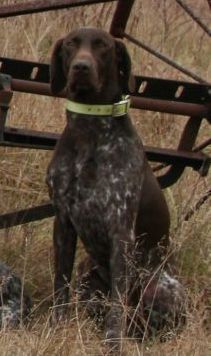 OFA Hips - Good, A2 (German Hip Evaluation - Good), Elbows Normal, Cardiac Clear, Eyes Clear

Zyka is an elegant female, that is balanced with a correct front and rear.  She is 59 cm and 25 kg (23 inches and 55 lbs.).  Zyka has a beautiful solid liver head, and is liver roan with a rear liver patch.  She has an outstanding nose which makes for exceptional duck searches.  Her drive makes for excellent hunting on land as well.  Zyka exhibits the toughness you want in a hunting partner, along with the manners you would like in a family dog.  She is good with children, other animals and now has proven to be an exceptional Mom.  Zyka finished her Canadian Conformation Championship taking Winners Bitch and Best Female Field Bitch at the GSPCC Regional Speciality in November, 2011.  Zyka is now living her retirement years with her lovely forever home in Pembroke, ON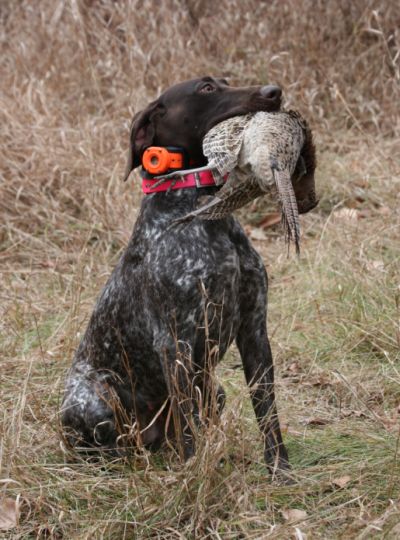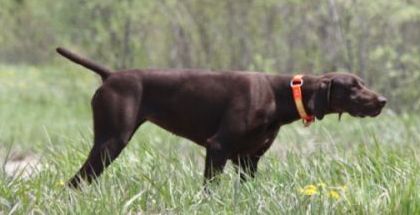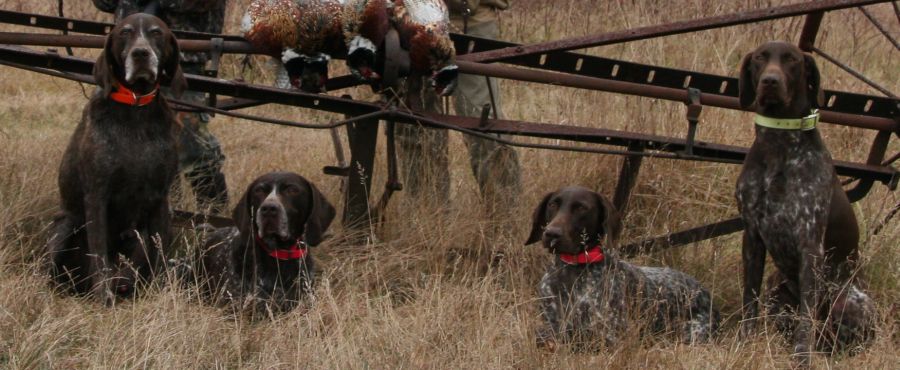 Issy is one of those "WOW" dogs.  She is an elegant, but muscular, solid liver bitch with a gorgeous neck.  Her movement in the ring, and the field is eye-catching.  Issy has a beautiful head, both in beauty and soundness.  She has a huge hunting search, excellent in the water, and very biddable.  In the German system, she has shown her versatility, taking top conformation bitch, V1, and best overall dog of the field performance Solms test weekend, in Michigan, USA, in September 2012.

Can CH. Issy Vom Osterberg FD, RN, Derby Prize I, VJP (72 points), Solms Prize I, V1(German Conformation) HN, BTR, V1, Prize I 136, 4h (search), 4h (nose), and top dog at the NAKP, in 2014.

Liesa Vom Osterberg FDJr, Derby Prize I, VJP (69 pts.), AZP Prize I, V2 (German Conformation)

Liesa is our black and white girl.  Yes, German Shorthair Pointers do come in black and white as well as solid black.  In Germany, black and white are not only in the standard but are sought after dogs.  Liesa is full of drive in the field and lives to find waterfowl. Her waterworks, and determination make it impossible for the loss of wounded game.  She is a medium sized female (60 cm, 25.5 kg (56 lbs)), with nice bone, and a typical female Shorthair head.  A solid black head and patched butt, with a very open white body makes her pleasing to the eye and easy to spot in the field while hunting.  Liesa is very biddable, good in the house, and great with children.

At the Ottawa Valley Pointing Dog Club pointing dog speciality, in August 2013, she was shown in conformation, took a 2nd and 3rd place finish in Rally Novice, took first in the Field Dog class hunt test, and tied for the top field score of the CKC Field Test day.  This allowed her to accumulate the most points of all dogs entered over the weekend, giving her the title of OVPDC 2013 Most Versatile Dog!   At the same field test, Issy also took best German Shorthair Pointer.  All that in a young career, and an absolute pleasure to have around the home.

You can see more of Issy on Kevin's facebook page.

OFA Hips - Excellent, A1 (German Hip Evaluation - Excellent), Elbows Normal, Penn-Hip, Cardiac Clear

Liesa is now living her retirement years in her forever home in Petawawa